---
Unprinted Grease Cartridge
Easy to use / No tools required.
No Scraps of paper pollute the grease.
No leaking problem / No wetting phenomena as paper tubes.
No pollution during the filling process / Less residue and waste.
Decrease the cost of packing, increase the image of the product.
More durable than paper tube. No damp and no soften.
During the transportation, it is safer than paper tube and metal pull tab.
Loss is minimized.
Provide a clean simple way to operate for users.
Meeting the environment protection.
Grease Cartridge, Grease Tube, Cartridge for Grease and Lubricans
Specification
Material: PP
Capacity: 400ml
Size: Meet DIN 1284 Standard,Suitable for standard Grease Guns
Applications
For prime lubricants and greases.
One-piece plastic tube
Easy handling
Opened without additional tool.
Packing information
Each set: Grease Cartridge with Cap
Cartridges: 108 PCS/CTN ( 77 x 24.5 x 39 mm)
Caps: 1,200 PCS/CTN ( 40 x 40 x 42 mm)
Instruction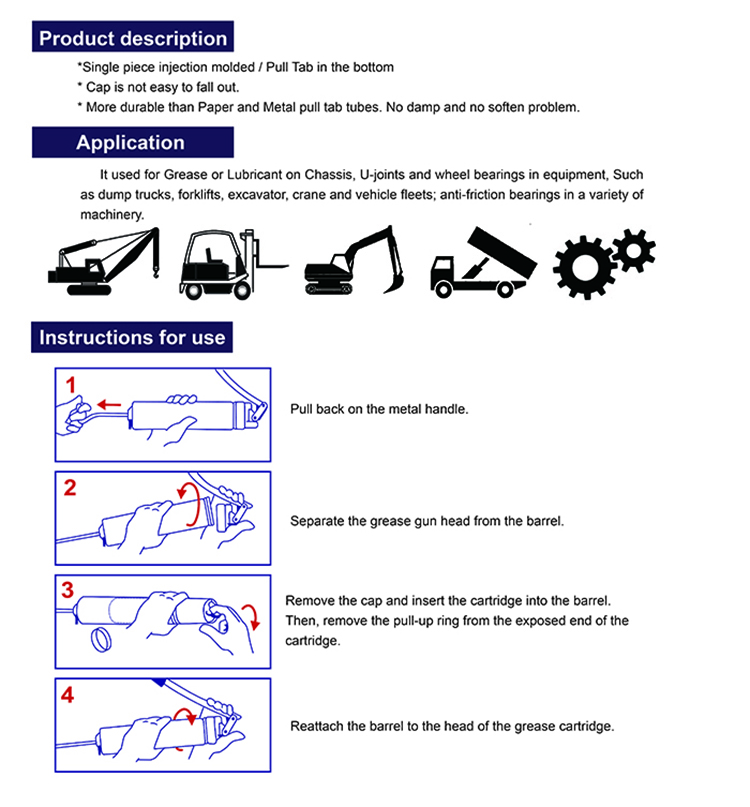 Movies





Related Products

---

Easy to use / No tools required. No Scraps of paper pollute the grease. No leaking problem / No wetting phenomena as paper tubes. No pollution during the filling process / Less residue and waste. Decrease the cost of packing, increase the image of the product. More durable than paper tube. No damp and no soften. During the transportation, it is safer than paper tube and metal pull tab. Loss is minimized. Provide a clean simple way to operate for users. Meeting the environment protection.

---

---